Other C30 Suppliers...
General (Marine Merchandise etc.)
West Marine
BOAT/U.S.
Defender Industries
CLR Marine
Catalina Direct
MarineSource Network, Inc.
David Santangelo Marine Services
ABYC CERTIFIED MARINE TECHNICIAN
ROLLY TASKER SAILS & GARHAUER MARINE AFFILIATE
www.catalinaoutfitters.com
Custom Electrical Panels • AC / DC Systems • Electronics •
Rigging • Survey Satisfaction • Sails, Cushions & Canvas
PO Box 12061 • Marina Del Rey, CA 90295 • (310) 890-8432
Batteries, NiCads, NmiH etc.
Batteries America for your portable power battery requirements!! We are your reliable source for batteries, chargers, and accessories.
C30 Hauler
Special trailer, Denise Allen 770-967-3365 Approx $4 per loaded mile! Southeast U.S.
Cordage, Rope
For what it is worth, I decided to replace all of the running rigging this year. I went with Sta-Set X. I did a little shopping around and found a place called Sailing Services in Miami. http://www.sailingservices.com/index.htm I gave them a call and found them to be knowledgeable, courteous, and friendly.
Manila Cordage Company, The largest and the oldest rope manufacturer and exporter in the Philippines.
Database and Subscription Services for Associations
NANOSEC Services Inc PO Box 9840, Fayetteville AR 72703 479-587-0688 nanosecla@yahoo.com
Electrical Wire Products
Wire products for marine applications (battery cables down to 18 awg tinned wire). E G fine strand tinned 1 awg cable in both black and red for $2.05/ft and even less if you forgo the tinned wire 1 awg $1.49/ft.
http://motors.search.ebay.com/_W0QQsassZgenuinedealz
Engines, Parts
I ran across updated Kubota thermostat part numbers for the M-25 and XP ( not XPB) and any others that use the Westerbeke p/n 301358 thermostat. Kubota thermostat 160F 71C p/n 19203-73014 (Wb p/n 301358.)
(supersedes Kubota p/ns 19203-73010, 19203-73013.)
Therm gasket (Wb p/n 300237.) Kubota gasket 16851-73270. (supersedes Kubota p/ns 15676-73272, 15531-73270.)

For those who may want to run hotter (as a diesel likes to) there's a 180 degree model (should NOT be used in salt water.)
Kubota thermostat 180F 82C p/n 15531-73013. (supersedes Kubota p/ns 15531-73010,15531-73011, 15531-73014.)
NOTE: If the Kubota thermostats don't already have them, drill two 1/8" holes thru the flange so cooolant can circulate through the exhaust manifold while the thermostat is closed.
Catalina Direct sells replacement exhaust risers for the C-30. See http://www.catalinadirect.com/index.cfm?fuseaction=product.display&product_ID=1736
Custom Electrical Panels • AC / DC Systems • Electronics • Rigging • Survey Satisfaction • Sails, Cushions & Canvas PO Box 12061 • Marina Del Rey, CA 90295 • David Santangelo www.catalinaoutfitters.com (New Engine panel photos)
Alternator Mounting Brackets. Here is the old style mounting bracket. http://www.marinedieseldirect.com/universal/200142/alternator-group.htm And here is the new style. http://www.marinedieseldirect.com/universal/200142/alternator-mount-conversion-kit-group.htm
The key is part #13 which takes the structural load and feeds it into the exhaust manifold water jacket. Previous, the load was going into a bolt in the gear case housing. The gear case housing was subject to cracking. This is an important upgrade. If the housing cracks, enough oil can leak out, if you don't notice it, to damage your engine.
Tractor Smart - cross reference kubota engine numbers to tractor models http://www.tractorsmart.com/enter.htm and a history of Universal Motors at ..\TechLib\Engines\atomic4.htm
Beta Marine's engine range is based on the most advanced water-cooled diesels from Kubota. If you are repowering, we have drop-in replacement engines that provide safer more fuel efficient and reliable alternatives to the old Universal engines. We offer friendly. experienced customer service and special discounts to Catalina 30 owners. Jay Kimball, 1.888.792.2382, www.BetaMarineNW.com
Low cost Heat Exchangers - http://i-netmarine.com/he/heat_exchanger-Universal_Medalist.htm
Westerbeke/Universal/Atomic OEM parts dealer. I also supply Oberdorfer, Flojet, Groco, Jabsco, Lovette, Rule, Sherwood, Whale, and other model pumps and toilets, and accessories, and supplies/parts. I do "special deals" for IC30A members. Weekend'R Products www.WeekendRProducts.com Ken@WeekendRProducts.com
Sound Marine Diesel LLC, www.soundmarinediesel.com Joe DeMers
Torresen Marine at www.marinedieseldirect.com or www.hansenmarine.com/parts.htm
Universal Engines Owners Manual
Universal Engines Parts Catalog
Tom Piper, R. B. Grove, Inc. Florida Universal dealer, www.rbgrove.com
Engine Power Source (Kubota engine distributor for OEM applications)
220 Olympic Street, Charlotte NC 28273 (704)944-1999 Voice, (800)374-7522 Toll Free, (704)944-1873 Fax http://www.enginepowersource.com/
Mariner Supply, Inc., Quality marine parts and supplies, 330 Madison Ave S, Suite 204, Bainbridge Island, WA 98110 Phone (206)780-5670, Fax (206)780-5673 http://www.go2marine.com
Southeastern Power (Kubota parts, great prices) 954-979-5899
Old Lyme Marina "Premier repower facilities in the Northeast" 34 Neck Road Old Lyme, CT 06371-1422 860.434.1272, fax(860)434.3068 olmarina@oldlymemarina.com

Torreson Marine Universal and Yanmar engines
(here's other possibly useful pages to cross reference kubota engine numbers to tractor models
http://www.tractorsmart.com/enter.htm
http://www.frontierequip.com/library/kubotaenginemodel.pdf )
MUFFLERS : The Verna lift muffler is made by Centek Industries. West Marine carries them. There are many more varieties available by special order than shown in the WM catalog. For example, you can get one with 2" OD inlet (to match the new heat riser) and a 1 5/8" outlet (to match the old hose in the boat Try http://www.centekindustries.com/prod_03.html
Heat Exchangers: http://i-netmarine.com/he/ or http://www.lencocoolers.com
Globe Resilient Blue Impellers, Run Dry Ability, Pro-longed Service Life, Performs in all Environments, Impervious to Engine Oil, Resists Sand Abrasion

Globe Motor Mounts, http://www.globerubberworks.com/
Flooring
Teak and Holly (factory, simulated) http://www.lonsealspecialty.com/lonwdteakholly.html#
Gifts, shirts, bags, more...
WeekendR Products
Sailing gear and equipment...(Spinnaker Guy(tm), The Better Turtle(tm), The Best Sail Ties Period(tm), Tilley Endurables
PO Box 140 8687 Boston State Rd, Boston, NY 14025-0140
(800) 226-0676, fax(716) 941-5586
American Illustrator, 225 Andros Ave, Cocoa beach, FL 32931 877-783-9876
Intersail: Sailing Information and Sailing Products Globally via the Internet
AllNautical.com: Leaders in the Nautical Gifts & Decoration Industry (727)577-4518 Melanie
Yacht Club Burgees Around The World: Its true, see if yours is there! Herb Halling is a new source for any club burgee.
Instruments, Repairs
DMI sells replacement and repair parts for Datamarine models.
Hatches, Windows
Cruising Concepts, (800)899-3996, fax(360)376-2975 cruising@rockisland.com
AJR aluminum frame replacement windows http://www.ajr-windows.com/
Lighting, LED's
LED's http://doctorled.com/
Interior Light Fixtures
http://store.hamiltonmarine.com/browse.cfm/4,17135.html
http://www.catalinadirect.com/index.cfm?fuseaction=product.display&Product_ID=207
Parts, Parts, Parts
Custom Sailboat Parts Doc Freeman (Discontinued Parts) (206) 633-1500
Pedestals (see tables)
Merriman (Yacht Spedialities) Pedestal parts - JOES Racing Products / Constance Machine, 1410 80th St SW, UNIT F, Everett WA 98203, Ph 425-267-9199, Fax 425-353-1596 www.joesracing.com
Merriman/Yacht Specialties Pedestal Control Ring
https://shop.sailboatowners.com//prod.php?54883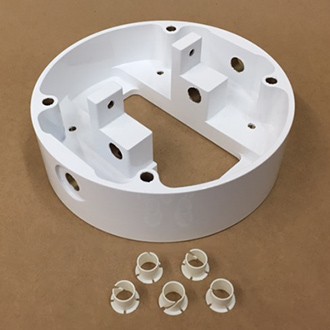 Propellers
Campbell Sailer Propellers, 360 941 5623 www.nuclearengine.com
Pumps...
Depco, Pumps etc. www.depco-pump.com 800-445-1656
D-850 Water Pump, Tractor Smart www.tractorsmart. com (Keller Bros.). The Kubota part number is 15534-73030. The gasket is 15676-73430. It cost $111.67 shipping included.
Rigging Hardware
Angus Yachttech Ltd., 111-2031 Malaview Ave. Sidney, BC V8L 3X9 Phone 250-656-9828 Fax 250-656-8672 mike@yachttech.com www.yachttech.com Rigging, masts, spreaders...
Rig-Rite Inc. Nicro-Fico Division 63 Centerville Rd., Warwick, R.I. 02886 USA (401) 739-1140, fax(401) 739-1149 kim@rigrite.com
SECO SOUTH, 2050-34th Way, Largo, FL 33771, 727-536-1924, fax 727-539-6314, Rigging email: sailboatrigging@secosouth.com
Rudder replacements, repairs
FOSS FOAM http://www.newrudders.com/ 352-529-1104 BobWalker10@aol.com
Custom Rudder Marina Del Rey, CA 90295 • (310) 890-8432 David Santangelo www.catalinaoutfitters.com C30 Elliptical Rudder Photo

IdaSailor Marine Inc. www.idasailor.com 866-400-2204 toll free or 208-375-2204 sailboats@idasailor.com
Ready built, discounts to C30 owners, low shipping cost from west coast.
Sails, Canvas
Sail Warehouse (408) 646-5346, fax(408) 646-5958
Sails East - USA, Pete Duerr, General Manager 6503 Scotch Pine Dr., Tinley Park, IL 60477 888-989-6503, fax(708)429-0798 pduerr@sailseastusa.com
Shafts, Seals, Drive Savers, Props
STRUTPRO allows replacement of a worn Cutless bearing without having to remove the prop shaft, rudder or strut. Michael Oberg, Global Marine Industries, Inc. www.strutpro.com Telephone: 425-397-6601
Two years ago I bought a new shaft from a place in Florida called General Propeller Company http://wwwgpcprop.com. It was a 1" stainless shaft with taper and key way which came equipped with bronze nuts and key. I paid $179.74 plus $18.00 shipping and it arrived in fine shape. This was a credit card transaction. I ordered that shaft as 1.0 OD by 58" overall length. It took about 2 weeks to complete the deal.
Stainless Steel Shafts Joe DeMers, Sound Marine Diesel LLC, www.soundmarinediesel.com [ 1" diameter x 57" long, stainless steel ] Aquamet 19 alloy List price is $181, your discounted price is $163. Aquamet 22 alloy [ most resistant to corrosion ] List price $236, your price $212.50. Plus Shipping.
Another sources is http://www.a1discountprop.com/aquamet19.htm
Marine Machining, 586 791 8800, $240 for shaft, coupler and the machining

PYI Inc. PO Box 536 Edmonds, WA 98029 (800) 523-7558, fax(425) 670-8918 pyi@pyiinc.com
Stuffing box tools
www.adjust-eze.com
Having the proper tools can make all the difference. Jeff Mahall Mahall Marine Products 401 338-6710 (mobile) 401 475-6262 (office)
www.mahallmarketing.com
Cutlass Bearings - best prices. Blackfish bearing $38.22 at boatfix.com http://boatfix.com/bypage2index.asp?page=663
Ship models
<![if !vml]>
<![endif]>SD ModelWorks, owned and operated by a Catalina 36 owner, builds hand-made mahogany replica models of any boat, including Catalina 30s and 309s. Full or half hull models are available. Visit their photo gallery of models and request a quote.
SPARS, MASTS, BOOMS
Masts, booms, furling and hydraulic systems email: mastandbooms@secosouth.com
Web Site: www.navtec.net
Mast fabricators - www.lefiell.com click on Marine Products. The closest C30 mast section model number is OM2C.
U.S. Spars Inc. (904) 462-3760, fax(904) 462-3448 tomthoms@bellsouth.com
Stern Perches, Peek a Boo Shutters, Cockpit Holders
American Business Concepts (now ZARCOR) John Halter 4400 Sunbelt Dr Addison TX 75001 972-380-8724
Stoves, LPG Tanks, Electrical Fittings

Annapolis Yacht Accessories (Bob Boyer) retrofits aluminum propane tanks with new OPD valves...please call (410)267-9686 or visit my website for more info at www.annapolisyachtaccessories.com
A&H Enterprises (Seaward, Primus/Optimus, etc). Tustin, CA (714)258-2525
Conversions: http://stores.ebay.com/gearbusters I have been doing conversions of Shipmate, Kenyon and Gas Systems ranges and stoves from alcohol or kerosene, to propane for over 25 years. Up until now, I have only done conversions, in my shop in Ft. Lauderdale... But I have decided to finish the instructions, for conversions by costumers. I will offer free phone consultation as well... The advantages to doing your own conversion, are many:
a) You could keep your old stove, which most people prefer to do (Shipmate Stoves were made very well sort of the 1957 chevy of the stoves.
b) Customers prefer not having to install new gimbals, or worry about the fit of a new stove, both of which can require some cabinet work, which can be difficult on some boats.
c) You could save as much as $500 over buying say a $1000 new stove (the parts will cost you $500 to $700 depending on the options you want to choose, in your conversion.
d) Part of the conversion would require me to lend you some special tools and collect a refundable deposit.
e) I also would include e-mail and phone consultation at no charge...
f) The last reason for doing your own conversion, would be that you would understand your stove intimately and be able to fix it yourself, down the road... should it ever need parts. (Speaking of parts, the parts I would sell you are all new, current production or custom made by myself.
Contact me at UltimateAccuracy@aol.com for more information
Selling products on e-Bay and in Ft. Lauderale, the Boating Capital of the World, is my full time job... I have over 30 yrs of experience, in the Marine Industry... I sell, repair, and can get parts for most marine stoves including: Seaward, Hillerange, Force 10, Shipmate, Kenyon and others...My track record is 100% positive and I aim to keep it that way !!! So buy with confidence !!!
Conversions: http://www.tauntonstove.com/services.html TASCO Marine Division
• We specialize in the conversion of alcohol and kerosene fuel stoves to Propane gas.
• We can provide full propane systems including tanks, hose, and all Fittings.
• We have replacement parts for most Kenyon, Homestrand, SeaWard, And Gas Systems Stoves.
Taunton Stove Company




490 Somerset Avenue




P.O. Box 198




North Dighton, MA 02764
Purchasing & Sales - David Bodge dbodge[at]tauntonstove[dot]com Phone - (508) 823-0786 Fax - (508) 824-3003
Tables and Pedestals
Here is a great website they have custom tables and pedestals. http://www.arrigonidesign.com/tables.htm
Water tanks, Waste tanks
Ronco Plastics Inc 15022 Parkway Loop # A, Tustin, CA 92780-6518 (714) 259-1385
Wood Products, Cabinets, Teak Accessories
A custom, fine woodworking shop, specializing in hard to find teak and mahogany items for Sailboats, i.e., Cabin sole, platforms & tables. J. Rowell http://www.WoodworkingforWatercraft.com or Call 928.767.3249
Thai Teak Marine Co., Ltd. 140 Ladprao Soi 81 Bangkok 10310 Thailand (662) 933 0574/5, fax(662) 933-1296 Donald L. Petrie ("Pete") Managing Director pete@thaiteakmarine.com
USCG Certification
http://www.cglicense.com/
http://www.seaschool.com/frm-renewal.htm